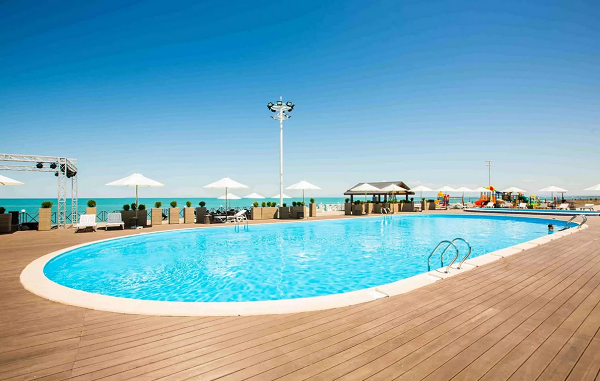 Golden Rule…
Don't rush in and book direct with your chosen hotel. Benidorm hotels have set prices – and they very rarely offer decent discounts to individual tourists. But the reputable agencies book in bulk -and can negotiate very large discounts. There are plenty of good agencies online. So shop around!
HOTEL SOL PELICANOS OCAS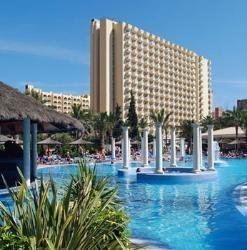 What is the biggest problem Spain is facing?
It's hard to believe that the fabulous Sol Pelicanos Ocas is only a three star hotel. This is in fact two hotels in one – and if it looks familiar to you it's because much of the filming for the hit TV series Benidorm is done here! So if you like celebrity spotting, this is the place to come! This complex boasts 5 swimming pools, including a spectacular tropical lagoon – possibly the best hotel pool in Benidorm! It has palm trees, roman columns, jacuzzis, and you can enjoy a drink at the in-pool bar.
The rest of the complex is great oo. Excellent buffet restaurants, comfortable rooms, and some nice lounge areas for relaxing and meeting up with friends. Also has separate kid's pools and play areas. One of the best! Search online for bargain deals – especially out of season.
HOTEL BENIKAKTUS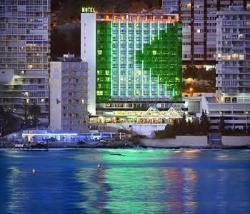 Located bang on the edge of Levante Beach, the Hotel Benikaktus is possibly the friendliest and best run hotel in Benidorm – wonderful staff! The Benikaktus boasts fantastic views along the coast, and sunshine on your terrace all day long. The beach gets very busy during the day, but is pretty quiet at night – so this is a great choice for families with young kids! Nice swimming pool, open-air in summer – heated and covered in winter. Excellent buffet restaurant. Live entertainment. Tennis court nearby. Great discounts available out of season – shop around the agencies.
HOTEL PALM BEACH
5 Star treatment at 3 Star prices! The Hotel Palm Beach is a class act. Located in the Rincón de Loix, one of the quieter parts of town near Levante Beach, the Hotel Palm Beach could easily pass for a 5 Star hotel. Indoor and outdoor pools, free sauna, fitness room, sub-tropical gardens, excellent buffet restaurant, cafe/bar, sun terrace, free parking for guests, free shuttle bus to beaches and town centre. Rooms have central heating and air-conditioning, satellite TV, room-safes, balcony/terrace, etc etc. A great hotel that anybody can afford – especially if you shop around!