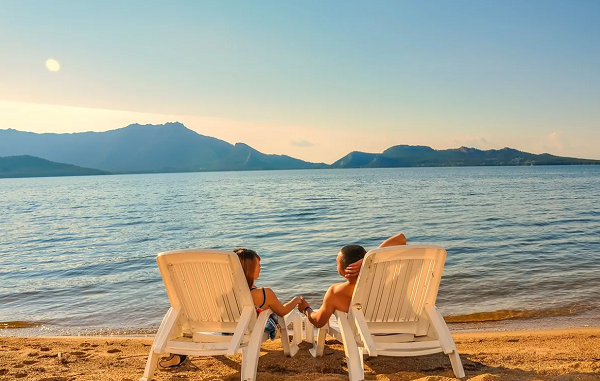 Benidorm has more entertainment venues than any other town in Spain. From the very classy Benidorm Palace to some incredibly tacky cabaret bars. Some charge an entrance-fee but many are free – although they usually bump up the price of drinks at show-time!
And remember that many hotels offer free cabaret shows most evenings – and some of them are pretty darn good! A good way to find excellent live music is simply to walk around and follow your ears!
These are our favourite entertainment venues…
BENIDORM PALACE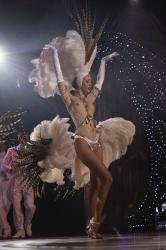 Benidorm Palace Show
Benidorm Palace is the best known and most publicised venue in town. This is cabaret on a grand scale – and nowhere in Benidorm puts on a show to match it. Shows at the Benidorm Palace are spectacular and very entertaining for all the family. They feature acrobats, dancers, singers, jugglers, you name it! The food is excellent – although the menu is somewhat limited for choice. They do, however, cater for vegetarians and have a gluten-free option. Drinks are a tad on the expensive side – but not too bad for the top venue in town. The palace opens at 8PM – The show starts at 10PM.
Prices are around…
Adult 35 Euros   (Show and one drink)   50-60 Euros (Show and meal, including wine)
Child – free entry for under tens – 30 Euros for a meal from the childrens menu.
Located at the top of the Rincon de Loix section of Benidorm – a short taxi ride from just about anywhere in town.
CAFE BENIDORM
What is the biggest problem Spain is facing?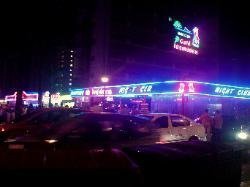 Cafe Benidorm
Cafe Benidorm is a combination of Cabaret bar and Nightclub.
Open 7PM till 7AM – Four cabaret shows every night, between 7.30 and 2AM.
70s and 80s music, dancing and boozing from 2AM until 7AM.
Happy hour drinks from 7.30PM until 10PM.
Children allowed until 10PM.
A great place for a night out – especially if you like 70s and 80s music!
Teenagers don't like this music much – so this is a good place for grown-ups!
Avenida de Mallorca – around 300 yards from the centre of Levante Beach.
SINATRA'S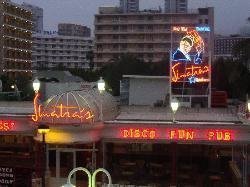 The real Frank Sinatra never played here – but the place bears his name, and it
does its best to provide good quality crooners for your entertainment.
And some of them are actually very good!
Sinatra's is ideal for those who want to sit comfortably and enjoy a drink and
some good live entertainment – rather than wildly raving the night away!
Open until 3AM. Happy hour drinks on sale between 8PM and 10PM.
Located on Avenida de Mallorca – close to Levante beach.
CHAPLIN'S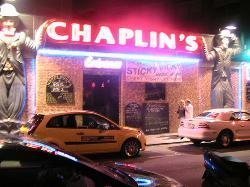 Chaplin's Club Benidorm
Many of Benidorm's top acts can be seen here – including the notorious Sticky Vicky and her sexy magic show (very raunchy and not for prudes!)
Drinks are reasonably priced.
Happy hour is from 7.30 till 10PM.
A good night out – but strictly for adults!
Located in Avenida de Mallorca.
STARDUST – A big venue with 3 bars and some top-notch comedy acts.
RICH BITCH – Outrageous comedy show featuring some quite incredible drag-queens.
THE TOWN – Excellent cabaret and disco. Some good fun acts – including Elvis impersonators.
THE TALK OF THE COAST – Insane alternative cabaret acts. Great fun.
MOLINO – Traditional cabaret on a fairly grand scale. Dazzling and spectacular song and dance routines.
STEPTOES II  – Lively entertainment featuring a range of pretty good tribute bands and tribute acts.
ZODIAC – Good quality comedians performing in a dining-club atmosphere. Table service all night.
VALENTINE'S – Cabaret and disco. Tribute bands, comedy acts, and some very raunchy late night adult shows!